Pitbull Audio Pedalboard Giveaway
Giveaway Countdown
This month, we've teamed up with our friends at Pigtronix, Keeley and D'Addario to bring you this custom pedalboard built right here at Pitbull Audio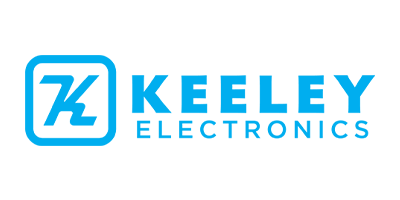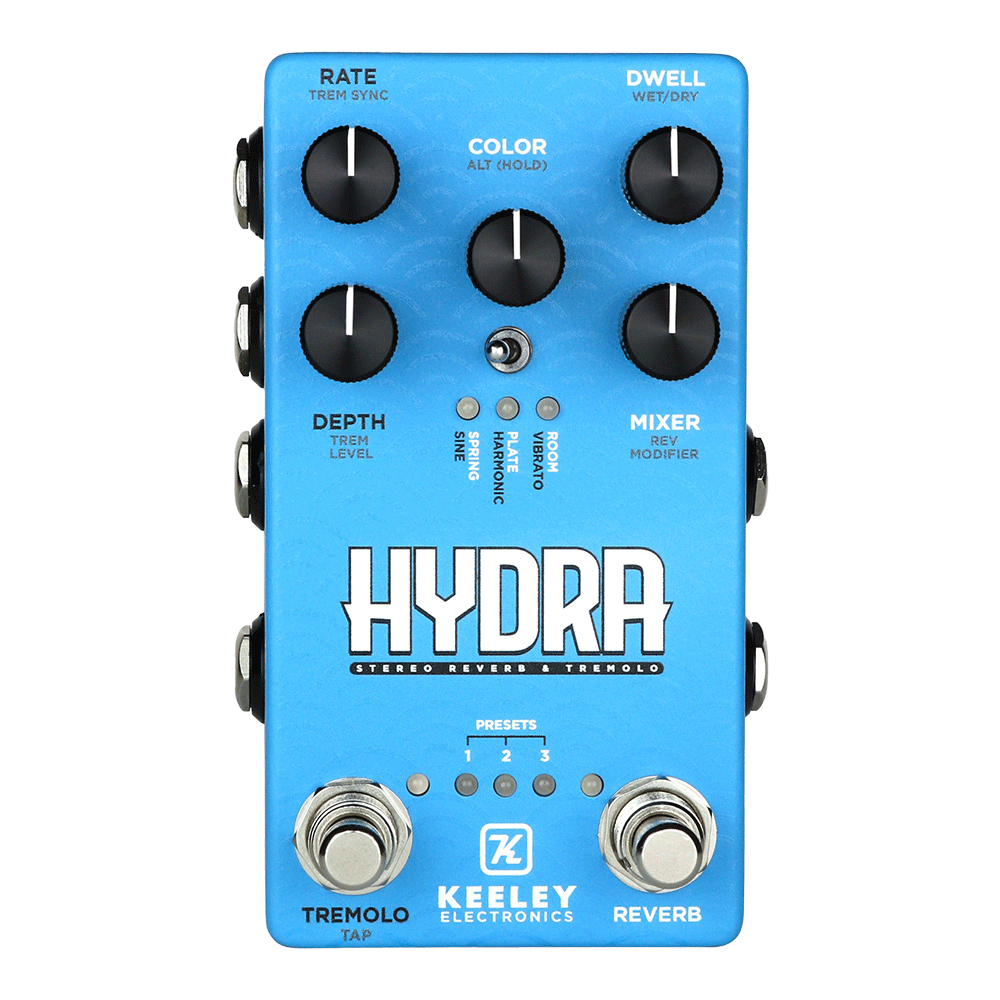 HYDRA Reverb & Tremolo
The HYDRA combines high-fidelity Reverb and Tremolo to add space and dimension to your guitar, bass, or keyboard signal. After the team at Keeley completed the ECCOS, we wanted to craft the perfect companion pedal, the tone of which had to make it impossible to turn off.

Bathe your sound in Spring, Plate or Room Reverb, then add tap-tempo enabled Harmonic, Vibrato, or Sine Wave Tremolo with the press of a button. You can easily change the order of effects or the character of the Tremolo or Reverb with the HYDRA's smart Alt Controls. You can even create an Infinite Hold Reverb Trail!

Save up to three presets with ease using our intuitive save feature. Engage Reverb Trails on the fly, no more internal dip switches. The Hydra can be used with pro remote switching systems and offers both TRS Expression Pedal and External Tap-Tempo inputs.

The HYDRA is a complete end-of-pedalboard solution that fits perfectly in any musician's rig, regardless of genre. Experience next-level processing power in this pedalboard-friendly enclosure. The sky, or more appropriately, the ocean floor, is the limit with the new Keeley Electronics HYDRA!
Halo Dual Echo
Andy Timmons' mysterious sounding  "Halo" effect is a modulated dual echo sound that has long been kept a secret by the tone wizard himself.  Andy spent decades combining and crafting the sounds you can now get from the HALO.  Notes from the HALO dance rhythmically, almost creating a reverb diffusion.  Those notes are held together with tape-style effects like modulation, saturation and compression.  The results are stunning.  The pedal comes loaded with his signature delay tone and you can program your own sounds and save them as presets. Easily bounce between Side A and B on the fly, essentially giving you two delay pedals in one. In addition to Andy's signature "Halo" sound, there are numerous other rhythmic delays including: quarter note, dotted 8th, stereo rack mount analog delay, and a vintage multi-head tape echo. Stunning stereo and pristine sound quality are further enhanced with controls for saturation, tone, and shelving filters that give you the ultimate delay pedal.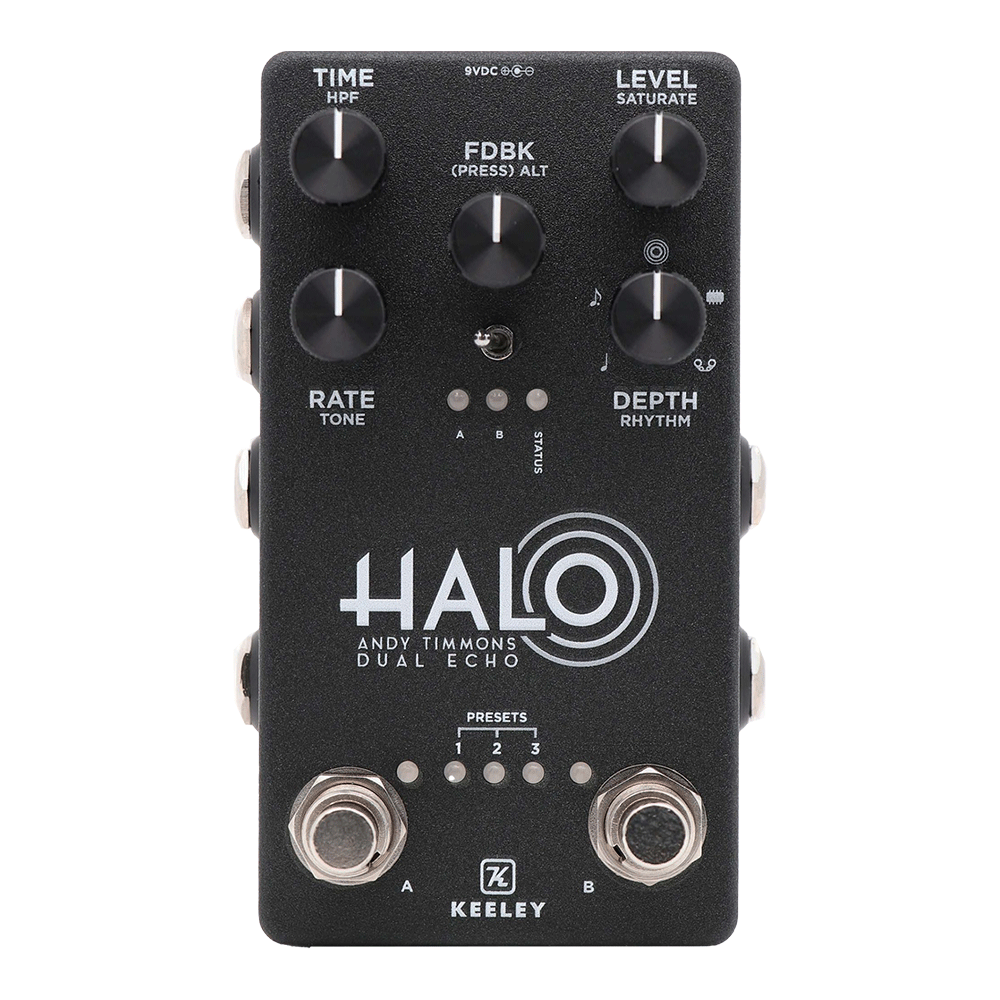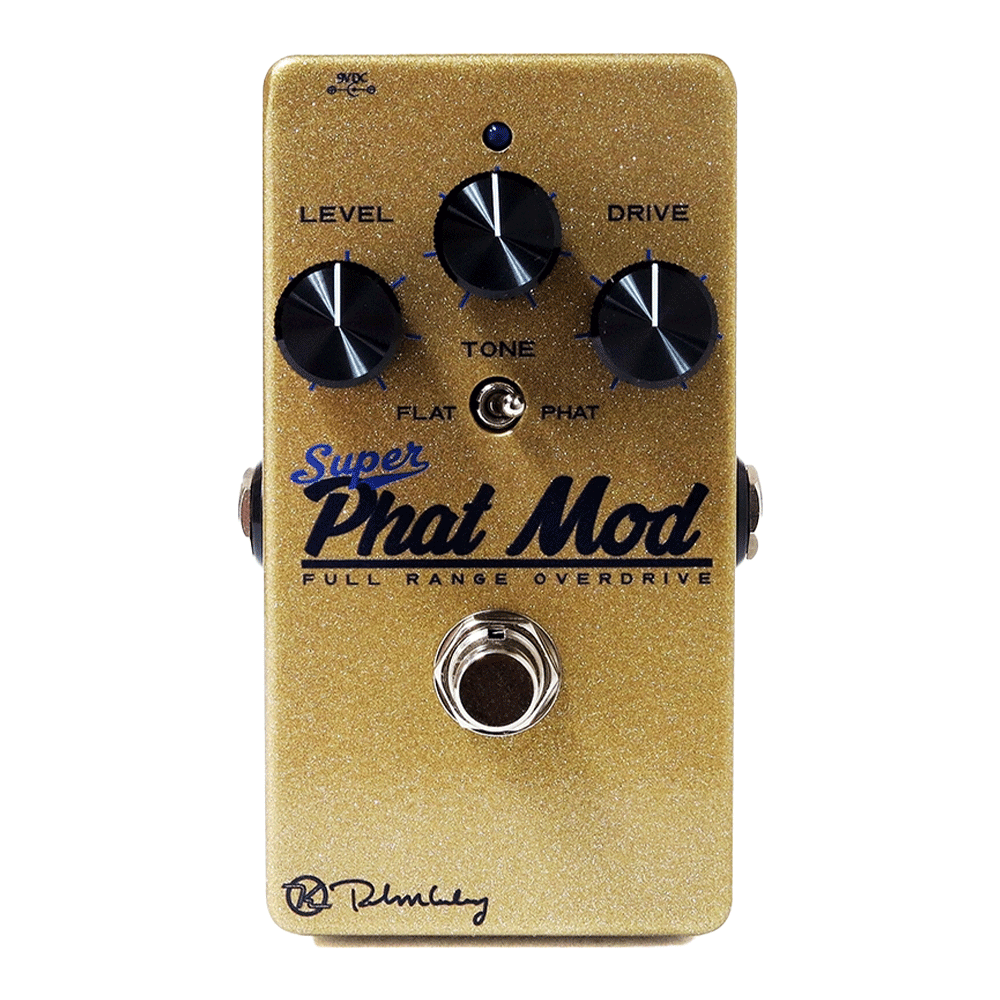 Super Phat Mod
Many say the Phat Mod delivers their favorite tone from a pedal. It's that natural break-up that just feels good and lets you express yourself. The dynamics make it feel alive and part of your fingers. That's the reason the modified pedal has stayed on people's boards for nearly 15 years. The Keeley Super Phat Mod is our famous mod now perfected with amazing sounding JFETs that emulate old tube amps in a unique way.

The original pedal was a great design that features tube-like amp stages, tube amp tone stacks, and a variety of tone shaping circuits to bring out the best in any guitar's pickups. The problem with building one in the past has been the difficulty finding the perfect FET to capture the magic. If the harmonic content and grain of the distortion and overdrive weren't exactly right, we moved on and waited to try out other devices. Well, after all these years Craighton Hale stumbled upon a Toshiba device that had the magic. Our resident guitar hero, Aaron Pierce, known for being very critical of even the most minute nuances, was grinning from ear to ear when he approved this ear-candy final version. We had found the magic device that pushed it over the top.  So, we just had to dress it in gold and royal purple.  The name badge had to speak of its history and heritage.  With Super Phat Mod in an old, Blackface-style logo and the metal-flake clear-sparkle on gold, we feel it will look incredible in any rig.
Compressor Plus
Pitbull Audio Limited Edition
The Keeley Compressor is the most popular boutique compressor in the world. With well over 95,000 compressors built in our shop we have an expert understanding of compression, limiting, and sustain. We know what it takes to make an instrument sound like it's been professionally recorded. We know how to make your guitar jump from the mix. We know how to make it fun and easy to play. Keeley Compression is how. The Keeley Compressor Plus is the first true advancement in our 2 and 4 knob compressor line. The new features are simple and straight forward. Now there is a simple Release Switch that is tuned for single coils or humbuckers. No more wondering if you have the attack or release set right. Your humbuckers will have all the attack and punch that they should. Our team designed a gorgeous sounding Tone Control which emphasizes the most sensitive harmonics that can be lost in compression. The Compressor Plus now sports a Blend Control that retains the peaks in your playing and, more importantly, the proper phasing of your guitar signal. The Keeley Compressor Plus offers the same gorgeous push of frequencies and sweetening of tone that the old comps gave you, now with the flexibility to easily handle any instrument.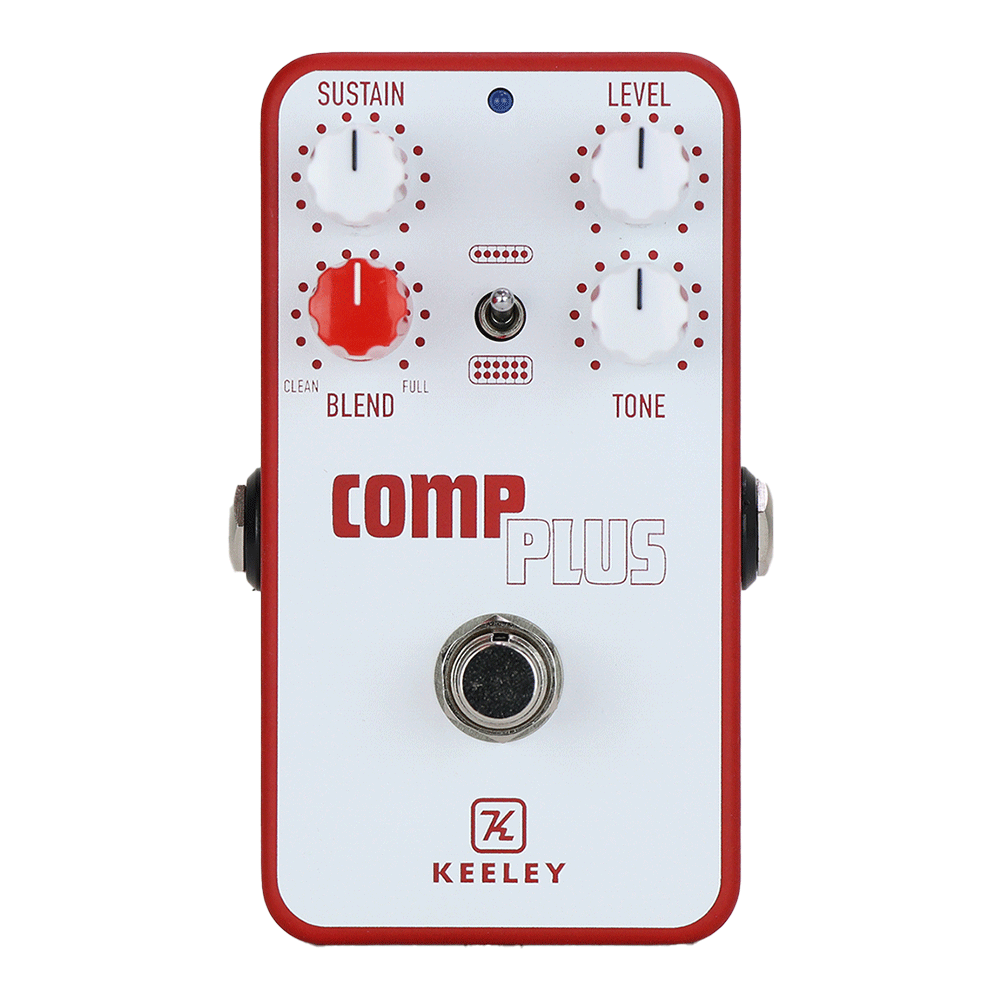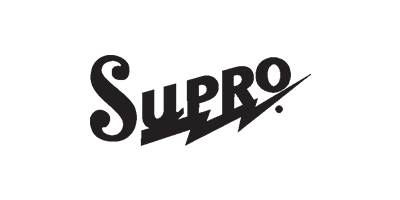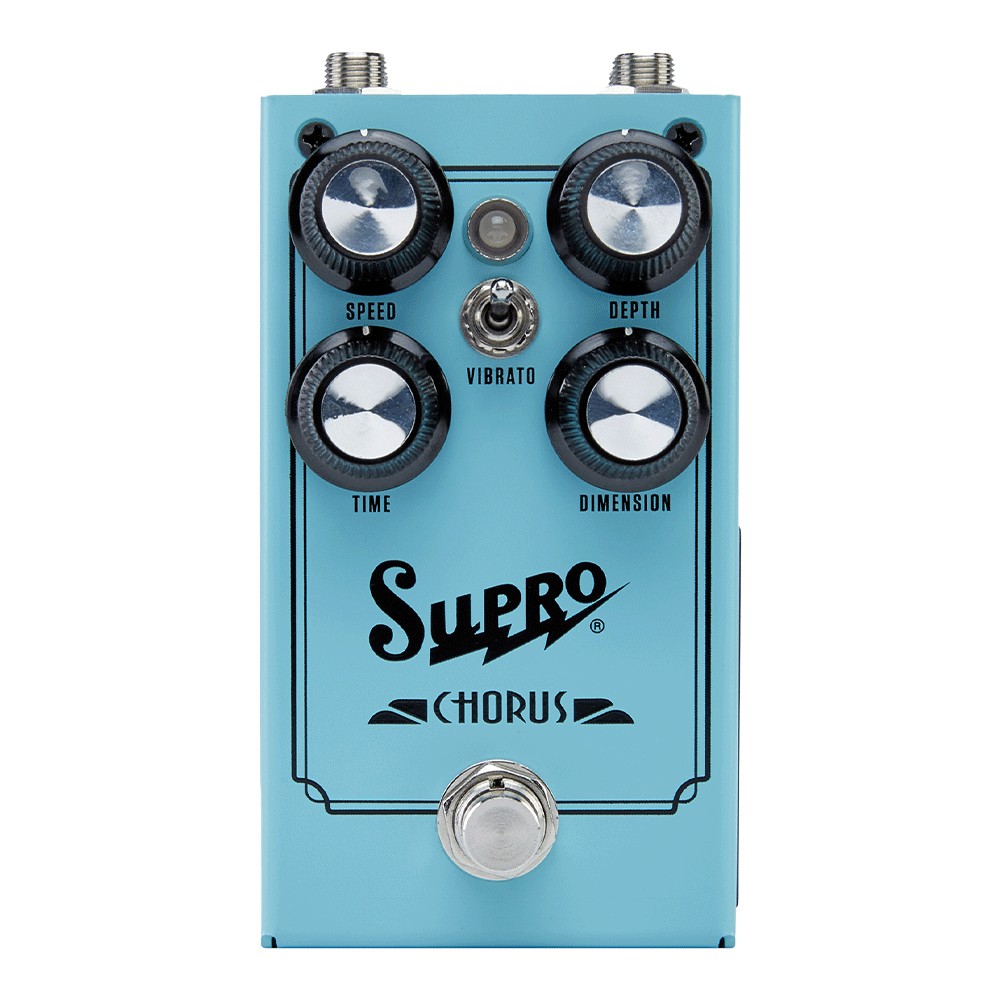 Chorus
The Supro Chorus is an all-analog, full-stereo modulation stompbox that uses a pair of genuine MN3007 Bucket Brigade IC chips to deliver the thickest, most luscious Chorus effect possible in pedal form, all while maintaining exceptional headroom. In addition to Speed and Depth knobs, the Supro Chorus features a Time control that increases the delay time on one side of the stereo field while shortening the delay time on the other side. Further increasing the available drama is a Dimension control, which mixes the stereo channels into one another for a mesmerizing intermingling of the two delay lines being modulated in opposite directions. A Vibrato switch removes the clean pass-through signal, allowing for pure pitch modulation with the Dimension knob, introducing a more complex, double vibrato effect. Runs on standard 9VDC.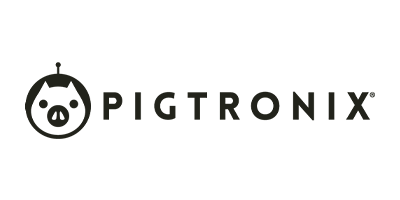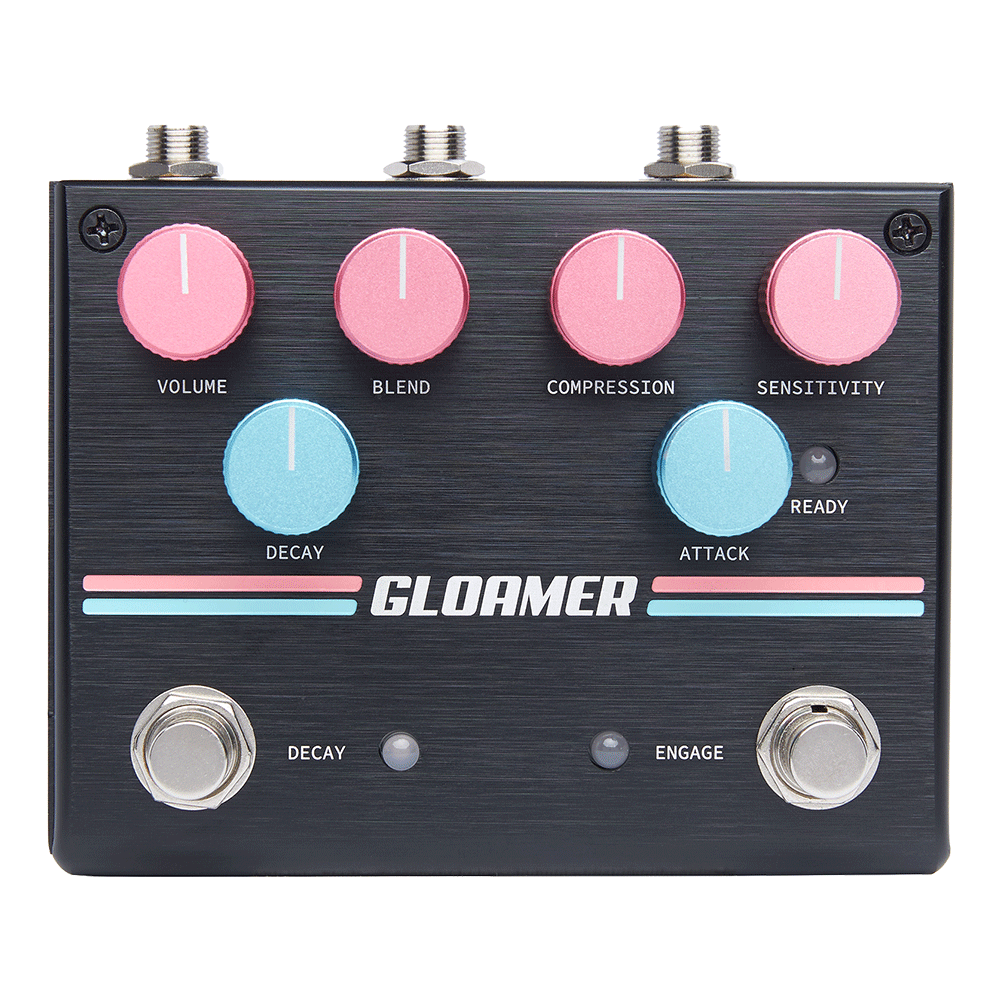 Gloamer
Gloamer is an all-analog, polyphonic amplitude synthesizer that alters the attack and decay time of any sound source without sacrificing the fidelity of the original tone. Its attack function provides a pick-triggered volume swell: a cinematic "slow gear" effect that is smooth and controllable with variable timing from extremely fast to very slow. The volume swell cycle can be reset at any moment by muting, allowing players to craft bowed string-like lines and chords with ease. Gloamer also features a powerful optical compressor that can add subtle punch or extreme sustain, helping to maintain a smooth volume swell effect even with very long attack times. A Volume knob controls loudness at the peak of the attack cycle, while a master Blend control allows players to layer an uncompressed clean sound in with the volume swell effect. Additionally, when activated, the Decay function causes notes to fade out once the attack cycle is complete. When the decay cycle is completed, an auto-reset function causes the attack to begin again immediately, as long as there is audio input. This allows you to create a wide range of undulating, asymmetrical tremolos at slower settings as well as pulsating stutter effects when using faster attack and decay times.
Star Eater
Star Eater is an all-analog, dual footswitch super-jumbo Fuzz with a footswitchable booster and variable filter stage, allowing players to easily sculpt a massive array of inspiring, unique fuzz tones. On the fuzz side, newly-available, precision-matched transistor pairs are utilized to ensure that each and every unit is perfectly dialed in to "the sweet spot" that can be so elusive to find in vintage pedals. A rocker switch provides your choice of Germanium or Silicon color. Downstream from the fuzz, a powerful booster stage drives the filter in the Star Eater. Scoop and Bump voicings for the filter can be selected via a rocker switch, drastically changing the frequency response of the Sweep control throughout its entire range. Built to last and designed to inspire, the Star Eater brings a unique approach and a new standard of performance to the world of boutique fuzz pedals. Runs on standard 9VDC.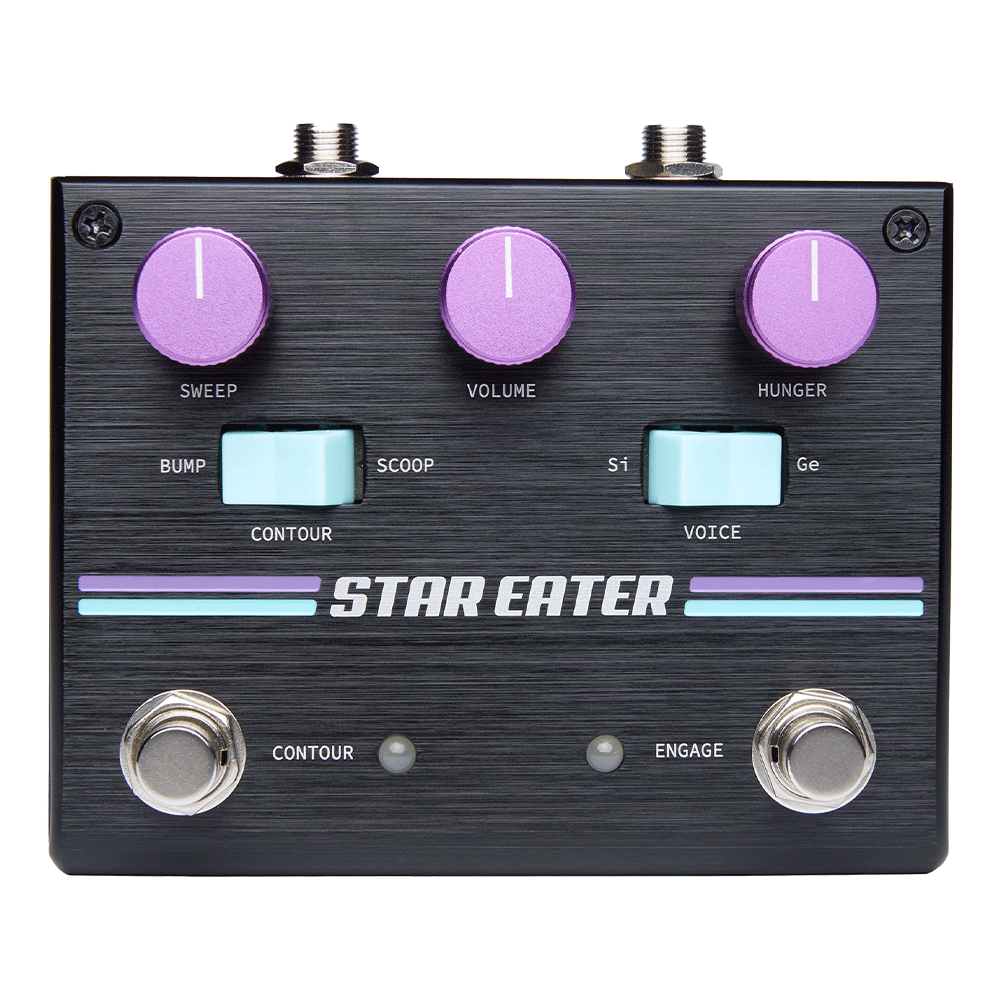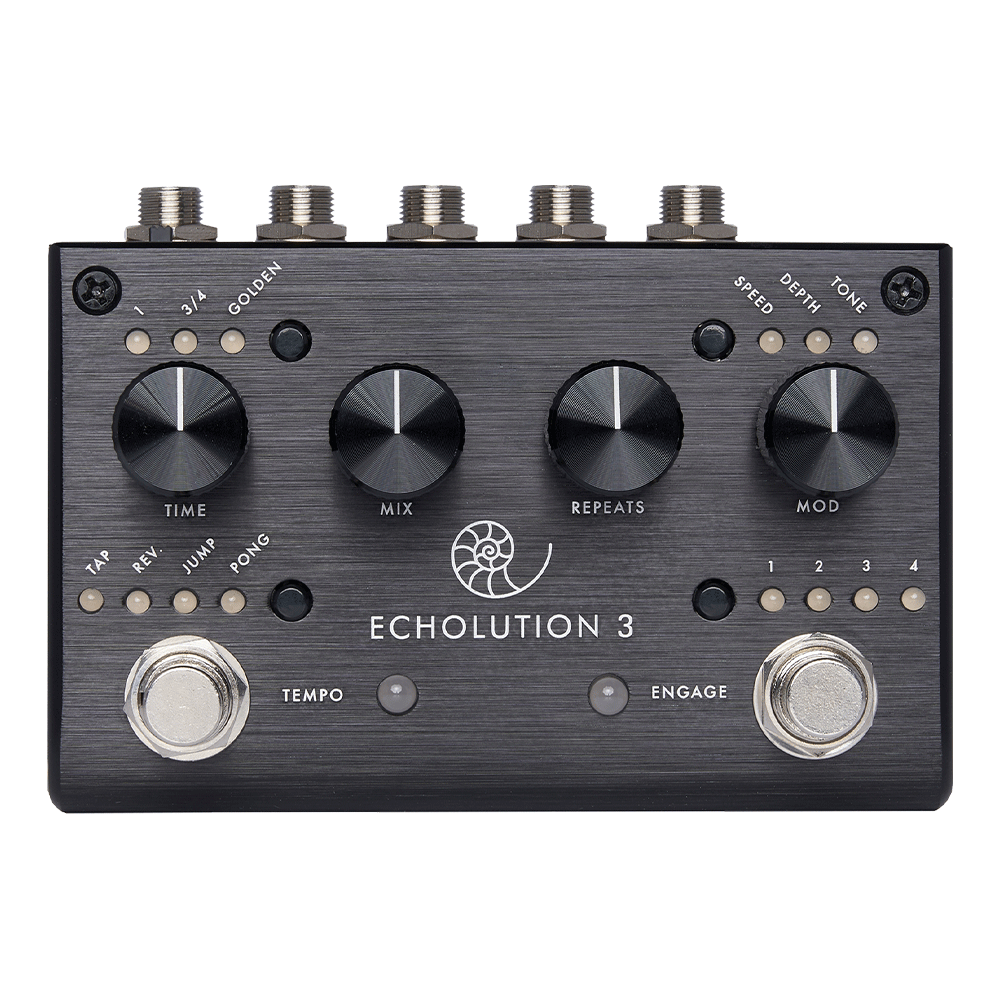 Echolution 3
Echolution 3 is a multi-tap stereo modulation delay offering a myriad of sound design options including reverse, jump, pong, modulation tempo sync, variable low pass filter, flexible signal routing and comprehensive MIDI control. Delay times ranging from 100ms to 5 seconds can be dialed in using the Time knob or via Tap Tempo using the left footswitch. A second delay tap can be set to the same length or a fraction of the main delay time to create rhythmic echoes. The ¾ fraction creates a dotted eight note delay, while the Golden fraction uses the sacred geometry of the Golden Ratio (.382) as the multiplier for the second tap. The multi-tap settings can be even further enhanced by the stereo ping pong effect, which causes the different delay taps to switch sides on each repeat. Store up to 4 presets, unlock hidden features with the Universal Remote footswitch, and design yet unheard delay lines. Runs on standard 9VDC.
Universal Remote Switch
Universal Remote is a passive controller with three momentary footswitches that is compatible with a wide range of digital effects pedals from Pigtronix as well as other top manufacturers, allowing you to explore the full extent of your most robust effects. When connected to an effects pedal using a standard TRS ¼" cable, Universal Remote can perform three independent functions: Left footswitch shorts the Tip to Sleeve, the Right footswitch shorts the Ring to Sleeve and the Center footswitch shorts both Tip and Ring to Sleeve simultaneously. Housed in a sleek and durable brushed aluminum chassis with laser-etched graphics.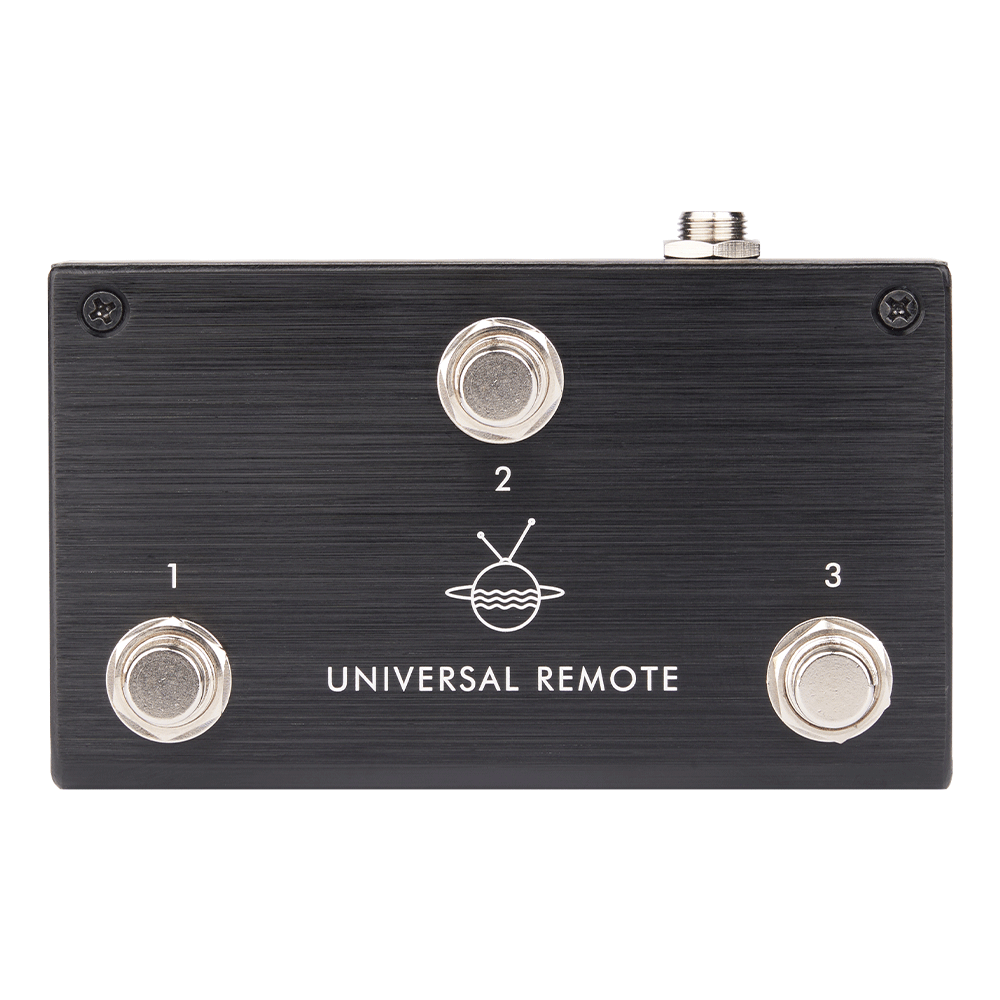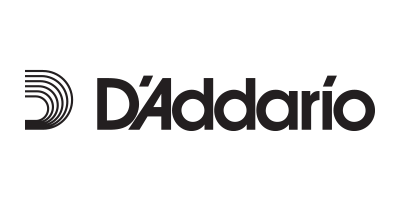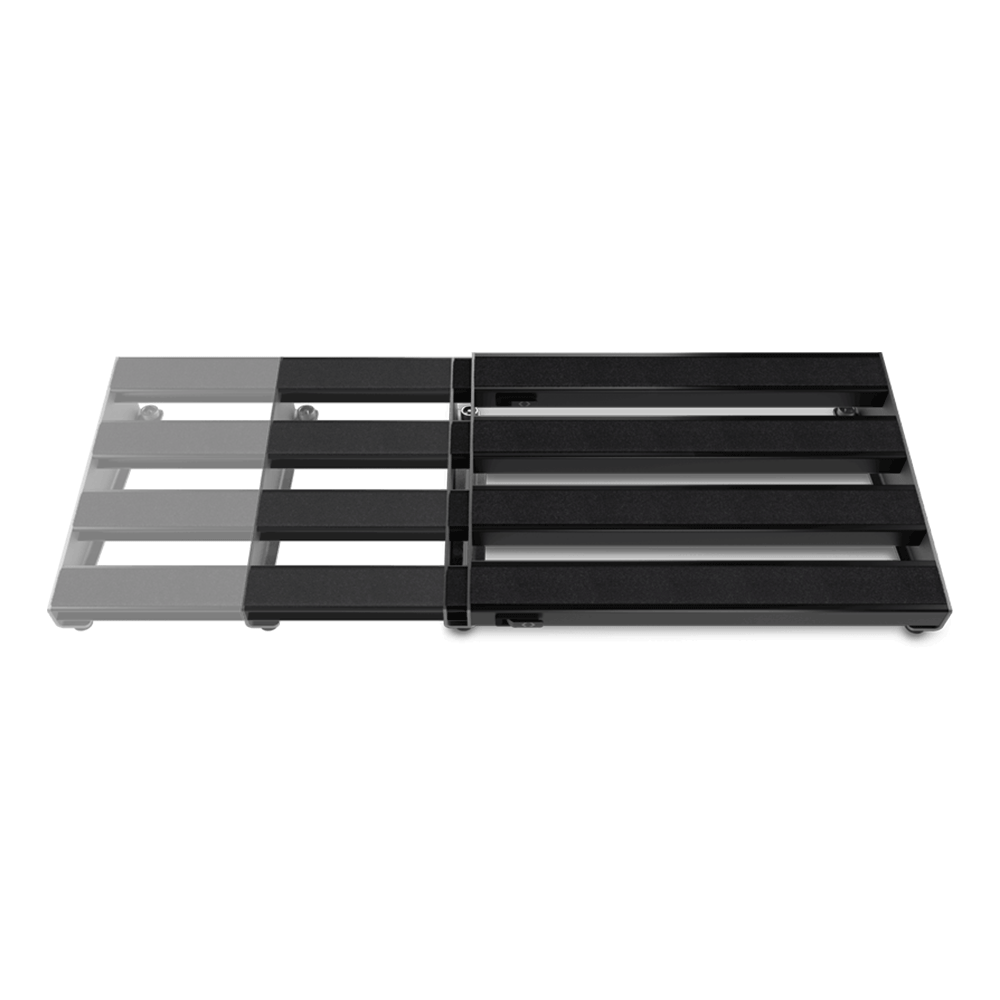 Double Rail XPND Pedalboard
With XPND and our new line of pedalboard accessories, D'Addario now has every part of your pedalboard covered. Choose between XPND 1 and 2—single and double-row pedalboard designs, respectively. Both models have their own Backline pedalboard transporter bag, designed to keep your setup perfectly secure on-the-go. Additionally, our single and double-wide XPND pedal risers let you boost the height of pedals in tough-to-reach places—so you can stomp every inch of your pedalboard with ease.