SKU
UA-APL-TX-DUO-HE-BSTK
Elite Audio Conversion and Unison Preamps, on your Desktop.
Apollo Twin X allows musicians and producers to easily track, overdub, and mix with elite-class A/D and D/A conversion, two Unison-enabled preamps, and available DUO or QUAD Core realtime UAD plug-in processing — all in a desktop Thunderbolt 3 audio interface for Mac and Windows.
Built upon UA's 60-year heritage of audio craftsmanship, Apollo Twin X confidently outperforms everything in its class with 127 dB D/A dynamic range, along with an included bundle of UAD analog emulation plug-ins and LUNA Recording System, giving you a fully-stocked analog studio, right on your desktop.
Record and mix with elite-class A/D and D/A conversion — with the widest dynamic range and lowest noise of any desktop interface
Two Unison-enabled preamps — track with near-zero latency through preamp emulations from Helios, Neve, API, Manley, and more*
Onboard UAD processing lets you track and mix in realtime with included Teletronix LA‑2A and 1176 compressors, Pultec EQs, 610‑B Tube Preamp, and more
Includes LUNA Recording System — a fully-integrated and inspiring music production application


Two Unison Preamps: Get the Genuine Sound of Neve®, Helios, API, Manley & More
Apollo Twin X features two Unison-enabled mic preamps, letting you track through exacting mic preamp emulations from Neve®, Helios, API, Manley, Universal Audio and many more. Exclusive to UA Audio Interfaces, Unison technology nails the tone of these sought-after tube and solid state mic pres — including their input impedance, gain stage "sweet spots," and the component-level circuit behaviors of the original hardware.
The secret to Unison is its hardware-software integration between Apollo's mic preamps and its onboard UAD DUO or QUAD Core DSP Acceleration. Simply place a Unison preamp plug-in on your mic input in Apollo Console software, and it physically reconfigures the Apollo interface's impedance — so you can tap into the classic sounds of the world's most recorded mic preamps.


Elite-Class A/D and D/A Conversion
With thousands of hit songs and hundreds of Grammy-winning albums under their belt, Apollo interfaces are used to track exceptional-sounding records every day. To improve on the previous generation of desktop Apollo interfaces' class-leading audio conversion, UA engineers redesigned the Twin's audio conversion to deliver a striking 127 dB dynamic range and -117 dB THD+N, giving Apollo Twin X a spacious, organic sound that easily rivals dedicated high-end converters.


Apollo: The Choice of New-School Professionals
Apollo is the confirmed choice of hit-making professionals, used to record landmark albums by Kendrick Lamar (DAMN.), Chris Stapleton (From A Room: Volume 1), Arcade Fire (Everything Now), Post Malone (Beerbongs & Bentleys), and many more. The Apollo range of interfaces has earned numerous industry awards from Sound on Sound, Future Music, and Electronic Musician — as well as the prestigious TEC Award for computer audio hardware five years running.


Access the World of UAD Powered Plug-Ins
Beyond the included Realtime Analog Classics plug-ins, Apollo Twin X lets you tap into the full library award-winning UAD Powered Plug-Ins — including vintage EQs, Compressors, Reverbs, Tape Machines and more — at near-zero latency, regardless of your audio software's buffer size and without taxing your computer's CPU.
With exclusive emulations from Neve, Lexicon, Capitol Studios, API, Manley, Ampex, Fender, and more, it's like having an endless analog studio, right on your desktop. And unlike competing interfaces, these DSP-powered plug-ins are also available in your DAW for mixing.


Record with Vintage Amps
Apollo Twin X also includes Unison technology on its front panel instrument input, giving you access to dead-on emulations of guitar and bass amps like the Fender '55 Tweed Deluxe, Marshall Plexi Super Lead 1959, and the Ampeg B-15N Bass Amplifier.


LUNA Recording System Deep Apollo Integration with a Fast, Natural Workflow
Apollo X series interfaces work with all major DAWs. But they become a fully integrated recording system with LUNA, Universal Audio's groundbreaking music production application for Mac. Harness LUNA's Accelerated Realtime Monitoring™ and power your workflow with a host of built-in features and optional extensions — from genuine Neve summing and integrated Studer tape, to inspiring LUNA instruments, and more.


Additional Connections & Built‑in Talkback
WIth its two onboard Unison-equipped preamps, two line outs, and optical ADAT/SPDIF input — plus dedicated monitor remote controls and a built-in Talkback mic — the 10 x 6 Apollo Twin X gives you the I/O you need for professional tracks and mixes.


Build a Networked Studio
Users of any Thunderbolt-equipped Apollo interface can combine up to four Apollos and six total UAD-2 devices — adding I/O and DSP as your studio grows. Once you expand your studio with an Apollo x6, x8, x8p, or x16 rackmount unit, you can use Apollo Twin X as a desktop monitor control while still tapping its additional I/O and DSP power.


Apollo Heritage Edition
The new Apollo Heritage Editions deliver a premium software suite of 5 or 10 award-winning UAD plug‑ins titles — including the full Collections from Teletronix,® Fairchild,® Pultec,® Helios,® and UA — conveniently packaged at significant savings.
These are the same UAD plug‑ins that built UA's reputation for analog modeling over the past decade — including vintage compressors, EQs, mic preamps, and reverb — giving you the most accurate library of classic analog emulations anywhere, right out of the box.


Apollo Desktop Promotion through July 15th, 2022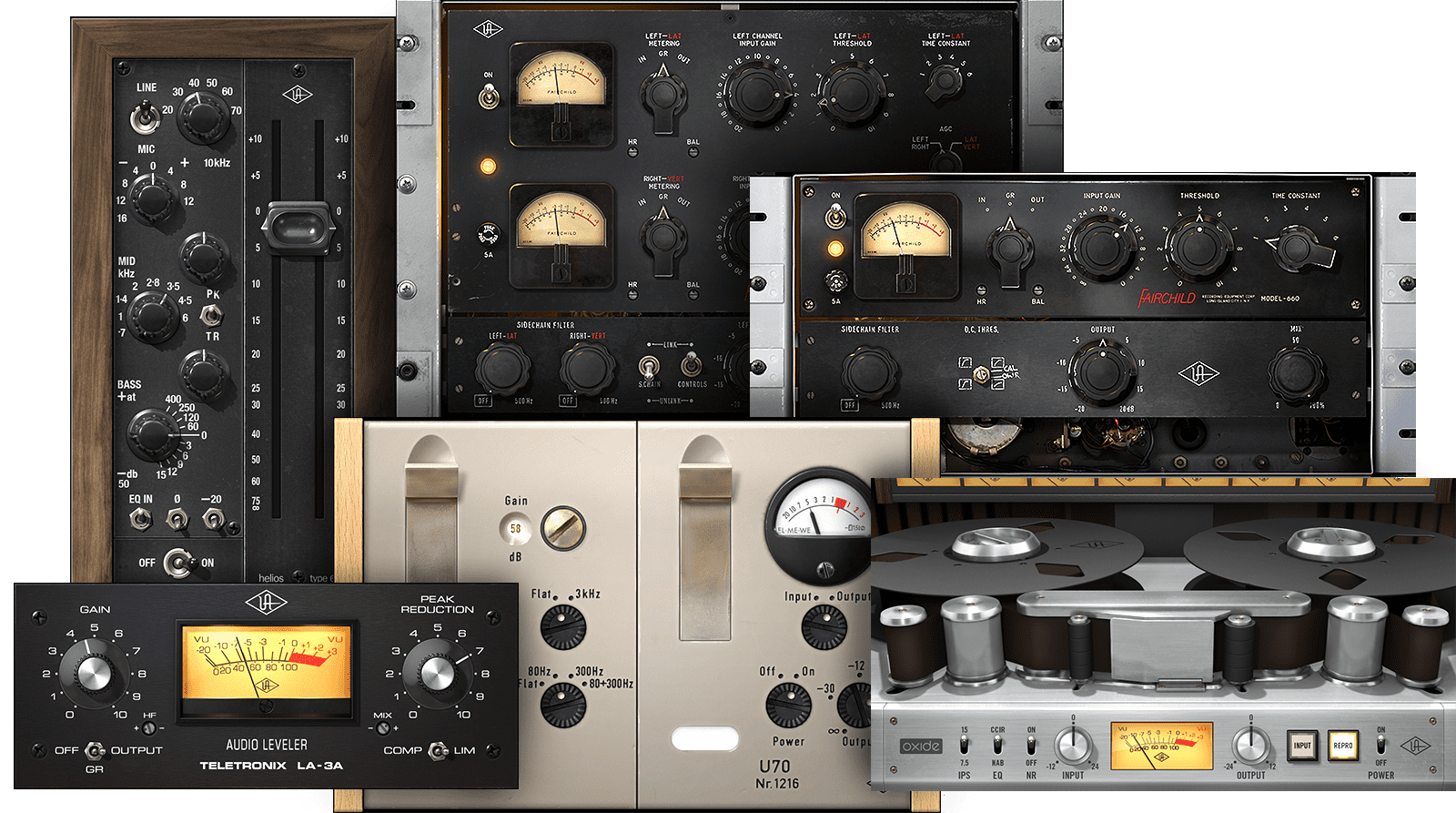 During Universal Audio's Q2 Apollo Desktop Promotion, customers purchasing select Apollo Twin or Apollo Solo Heritage Editions will receive a premium collection of UAD plug-ins valued at $1,145 — absolutely free!
Helios Type 69 Preamp & EQ V76 Preamplifier
Fairchild Tube Limiter
Teletronix LA-3A Classic Leveler Oxide Tape Recorder
FREE Included Plugins


Analog Classics Plus Bundle
• Precision Channel Strip (Precision Mix Rack Collection)
• Precision Reflection Engine (Precision Mix Rack Collection)
• Precision Delay Mod (Precision Mix Rack Collection)
• Precision Delay Mod L (Precision Mix Rack Collection)
• Teletronix LA-2A Legacy
Heritage Edition Plugin Bundle
Teletronix LA-2A Classic Leveler Collection
The LA-2A is the first-choice compressor for sublime optical tube compression. This collection gives you three landmark plug‑in versions of the classic Teletronix LA-2A hardware, perfect for smooth dynamics control of vocals, bass, drums and more.
Pultec Passive EQ Collection
Pultec passive tube-based equalizers are the gold standard in warm, musical equalization. This collection gives you all three Pultec equalizers with their uncanny boosting and tightening effects — especially ideal on vocals, bass guitar, and kick drums.
1176 Classic Limiter Collection
The 1176 is many producers' "desert island" compressor — adding its signature character and ultra-fast FET limiting to create punchy drums, platinum-sounding vocals, and fat bass, guitar, and keyboard tracks. This Collection gives you access to three distinct 1176 emulations, and is widely regarded as the world's most authentic 1176 plug‑in collection.
Pure Plate Reverb
Easily add natural depth and shimmer with UA's renowned plate reverb modeling. Pure Plate Reverb lets you quickly harness the organic sound of this classic effect on vocals, guitars, strings, and synths, giving you a lush, satisfying space that gently flatters any source.
UA 610 Tube Preamp & EQ Collection
UA's iconic 610 tube preamps offer rich harmonic detail and warmth, making everything they touch feel instantly "classic." The Unison-enabled 610-A and 610-B models in this collection let you craft vocal, guitar, and bass tracks with the presence, warmth, and body heard on records ranging from Ray Charles to Arcade Fire to Van Halen.
Features
Desktop 10 x 6 Thunderbolt 3 audio interface for Mac and Windows with elite A/D and D/A conversion inherited directly from the acclaimed Apollo X rackmount interfaces
2 Unison mic preamps offer stunning models of classic tube and transformer-based mic preamps and guitar amps
UAD-2 DUO or QUAD Core Processing for tracking through vintage compressors, EQs, tape machines, mic preamps, and guitar amp plug-ins with near-zero latency
Produce with LUNA Recording System — a fully-integrated recording application made for Apollo (Mac/Thunderbolt)
Front-panel Unison™-enabled Hi-Z instrument input and headphone out
Built-in Talkback mic for communication with studio talent and recording slate cues
Improved monitor functionality including monitor remote functions and Mono, Mute, DIM, and ALT monitor controls
Up to 8 channels of additional digital input via Optical ADAT or S/PDIF
Includes the "Realtime Analog Classics" UAD plug-in bundle featuring the Teletronix LA-2A and 1176 compressors, Pultec EQs, UA 610-B Tube Preamp & EQ, and more. Other UAD plug-ins sold separately
Runs UAD Powered Plug-Ins via VST, RTAS, and AAX 64 in all major DAWs
Uncompromising analog design, superior components, and premium build quality
Free, industry-leading technical support — on the phone and online — from knowledgeable audio engineers


ALL:
Thunderbolt 3 cable (not included)
Internet connection to download software and authorize UAD plug-ins
6 gigabytes available storage
Quad Core i7 or better processor recommended
For additional compatibility information, visit help.uaudio.com


MAC:
Available Thunderbolt 1, 2, or 3 port
Thunderbolt 1 and 2 connections require an Apple
Thunderbolt 3 to Thunderbolt 2 Adapter (not included)
macOS 10.12 Sierra, 10.13 High Sierra, 10.14 Mojave, 10.15 Catalina, or 11 Big Sur


PC:
Available Thunderbolt 3 port
Windows 10 (64-Bit Edition)
More Information

| | |
| --- | --- |
| Condition | B-Stock |
| SKU | UA-APL-TX-DUO-HE-BSTK |
| UPC | 4157337989 |
| Weight | 13.000000 |